or make 4 interest-free payments of $4.25fortnightly with
More info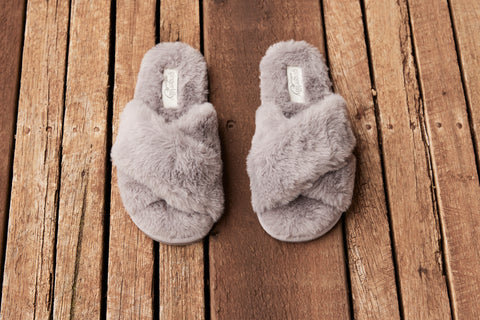 Gingerlilly Slippers Milan Grey
Gingerlilly Milan Slippers Grey
Welcome to Gingerlilly Slippers, where luxury and comfort meet in the form of our Milan-inspired open toe slippers. Our slippers are designed to offer the ultimate relaxation experience, with a soft and cushioned sole that will make you feel like you're walking on clouds.
Our Milan-inspired design features a cross-over strap with full faux fur, providing an elegant and stylish touch to your loungewear. The open-toe design ensures your feet stay cool and fresh, while the faux fur adds warmth and comfort to your toes.
Each pair of Gingerlilly slippers is carefully crafted with attention to detail, ensuring the highest quality and durability. Our slippers are perfect for unwinding after a long day, staying cosy on lazy weekends, or as a gift for someone special.
Experience the comfort and luxury of Gingerlilly Slippers today, and step into a world of pure relaxation.
Small - size 38EU, medium - size 39EU, large - 40EU